By Amy Miller, AFC®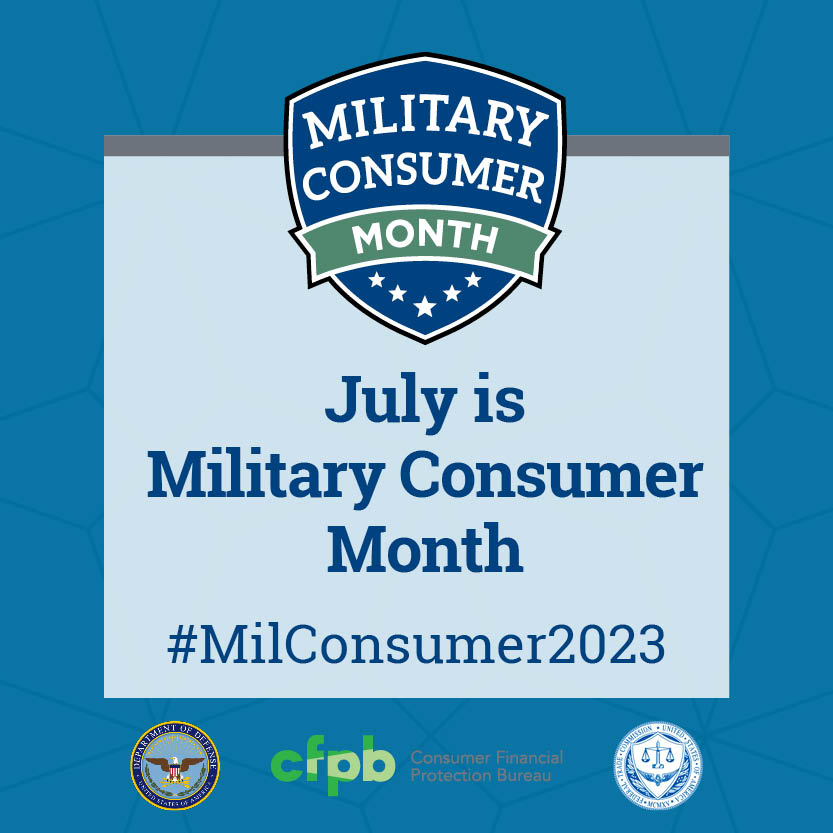 Military Consumer Month is recognized each year in July to increase awareness of the consumer protections in place for servicemembers, Veterans, and their families.
The Supreme Court's recent decision regarding the Biden Administration's student loan debt cancellation plan has sparked many new student loan scams. Continuing our focus on Military Consumer Protection Month, this week we'll look at the most prevalent student loan scams and a few ways to protect yourself.
Student Loan Debt Elimination
Many student loan debt relief or elimination companies will claim to be able to assist with student loan forgiveness, help to avoid default, apply for programs, or negotiate with a lender on a borrower's behalf. Some of these organizations are known to fake their affiliation with the U.S. Department of Education, make false promises, and collect thousands of dollars for services they never provide.
Loan Consolidation Scams
Many student loan borrowers consider consolidating their student loans after graduation, making loan consolidation scams one of the top student loan scams. These companies usually charge some type of up-front fee (administration, processing, paperwork preparation, etc.) but do not actually consolidate the loans.
Advanced Fee Scam
These scams promise to get the best interest rates and loan terms for their customers. Of course, there is a fee for the service, typically charged as an up-front flat fee or a percentage of the loan amount, usually 1-5%. Some companies have recently started offering a separate loan to finance the fees instead of collecting a lump sum in advance. They may also have very stringent cancellation clauses, including high fees to break the contract.
Debt Settlement Scams
These scams are typically orchestrated by law firms claiming to be able to settle student loan debt for significantly less than what is owed. Most often, the firm requires payments to be made to them directly instead of to the loan servicer. The payments are held in a type of "escrow" account until a certain balance is achieved.
When payments are made directly to the firm and not passed on to the lender, the borrower ends up defaulting on their original loan(s). The firm will then try to negotiate a settlement based on the client's "inability to pay". Although the debt may be settled for less, the fees charged are high and the amount forgiven can be considered income in some circumstances, which can lead to taxes owed on the forgiven amount. The non-payment also ALWAYS hurts the individual's credit score.
Scam Red Flags
Here are some student loan scam red flags to look for:
Upfront Fees
Promises of set payments
Promises of immediate forgiveness or cancellation
Claims of a relationship with the Department of Education
Promises that a buyer will purchase the loan or settle it for a certain amount
Forgiveness based on a school closing or lawsuit
Telemarketing calls stating they are part of a certain forgiveness plan…calling on behalf of the president or current administration
Pressure to make a quick decision to take advantage of the offer
Any encouragement to stop paying current loan servicer(s)
Being asked for personal information including social security numbers, login IDs and passwords, account numbers, and FSA IDs over the phone or via email
Requesting a Power of Attorney to act on the borrower's behalf
Victims of Student Loan Scams
Unfortunately, these scams are prevalent and there has been a tremendous uptick in activity this past month. If you think you're a victim of a student loan scam, take these steps immediately:
Legitimate Student Loan Forgiveness
No company or organization has the power to reduce or eliminate student loan debt, however, there are programs available to forgive some student loans for specific borrowers such as public service employees and teachers. There are also options available for income-based repayment plans if the loan is not eligible for forgiveness.
For more information, contact your loan servicer by logging in to studentaid.gov or calling 1-800-433-3243.