Amy Miller, AFC®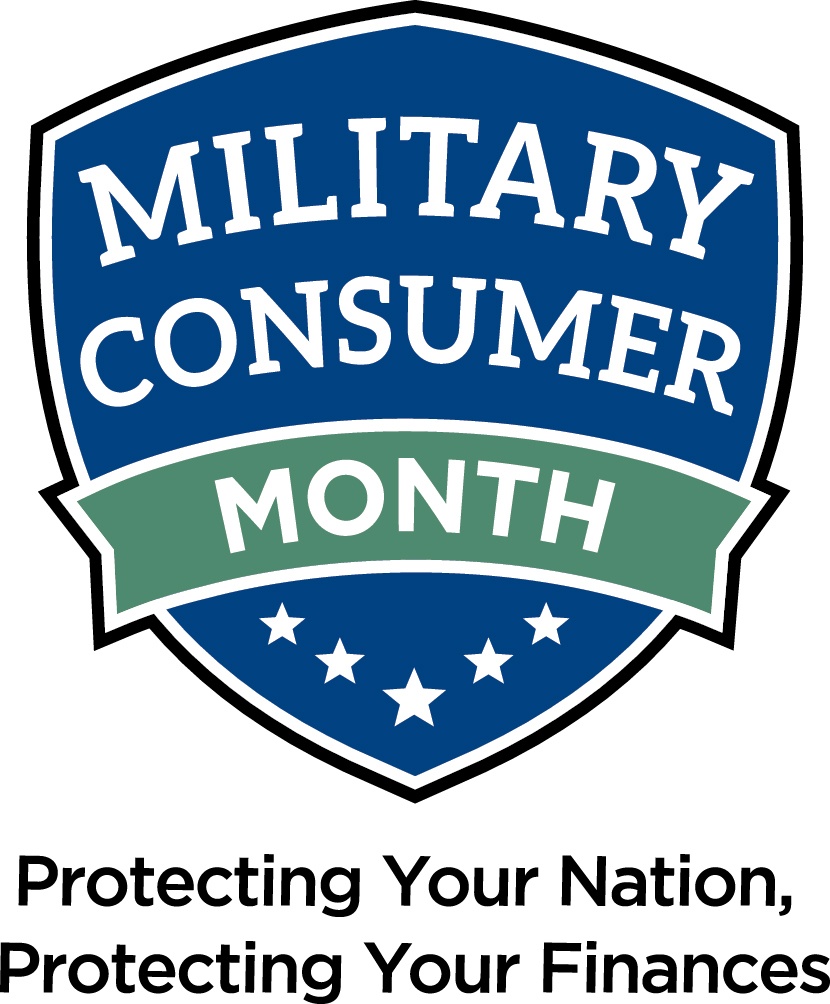 Military Consumer Month is recognized each year in July to increase awareness of the consumer protections in place for servicemembers, Veterans, and their families.
We're starting the month reviewing the protections provided by the SCRA, Servicemembers Civil Relief Act.
SCRA (Servicemembers Civil Relief Act)
Originally passed by Congress in 1940 as the Soldier's and Sailors' Civil Relief Act (SSCRA), the Servicemembers Civil Relief Act (SCRA), was updated and signed into law by President Bush in 2003. The SCRA provides legal protection for service members and their families against certain financial transactions that could negatively affect their lives during service.
SCRA protections apply to all active duty service members, Reservists when on active duty, National Guard members on active duty for more than 30 consecutive days, and active duty commissioned officers of the Public Health Service or National Oceanic & Atmospheric Administration.
The SCRA provides many protections pertaining to rental agreements, evictions, credit card and mortgage interest rates, foreclosures, civil judicial proceedings, automobile loans, and leases as well as health insurance and income tax payments. There are many specific protections that cannot be covered in detail, however, some of the top protections invoked by service members are below.
Reduced Interest Rates on Pre-Service Loans
Creditors must reduce the interest rate to 6% on qualifying debt incurred prior to an active duty service commitment, known as "pre-service loans". This applies to mortgages, credit cards, auto loans, student loans, and installment loans. It also applies to jointly owned debt with a spouse. Rate reductions apply during the period of active duty service for most loans and for one year after the end of service for mortgages. Contracts entered into during active duty service do not qualify.
Foreclosure
Mortgage loans established before entering active duty cannot be foreclosed on without a valid court order unless the service member has waived his or her rights. This protection also applies in states that have laws permitting foreclosure without a court order. Under this protection, the courts must pause all foreclosure proceedings if the servicemember's ability to pay was directly affected by active duty service.
Eviction
Service members and their families are protected against eviction for nonpayment of rent without a court order, regardless of the rental agreement or state and local laws. Courts must grant a 90-day delay in eviction proceedings when it can be proven that military service has impacted the member's ability to pay.
Repossession of Property
In some circumstances, personal property like an automobile secured by a loan prior to starting military service, cannot be repossessed without a court order, even if it is due to non-payment. The protection requires a lender to first file a lawsuit and obtain a court order before the property can be repossessed if the loan was taken before active duty service and a deposit or minimum of one payment was made prior to active duty service.
Termination of Contracts & Lease Agreements
In certain instances, residential lease agreements, automobile leases, and cell phone contracts can be terminated upon entering the military or when an active duty service member receives orders for a PCS (permanent change of station) or orders to deploy for more than 90 days.
Requesting SCRA Protections
To request protection under SCRA, written notification must be sent to the lender or creditor along with a copy of military orders outlining active duty status. SCRA rights can be requested by the service member themselves or anyone with a valid power of attorney for the service member.
Lenders can dispute the request if they believe the service member's ability to pay the higher rate is not directly affected by military service. However, lenders are not able to revoke loans or credit lines, change the terms of existing contracts, or decline credit due to the service member exercising SCRA rights and protections.
Assistance with SCRA
Service members can reach out to the nearest on-base legal assistance office for help. Search here to find an office in your area.
More information can also be found here.