Amy Miller, AFC®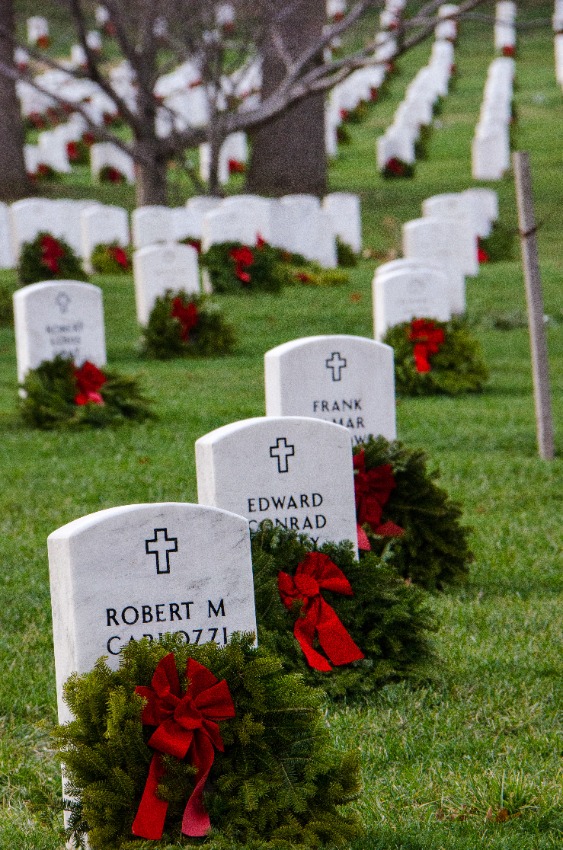 The event was originally started in 1992 by Morrill Worcester due to a large inventory of leftover wreaths which he decided to donate to an older section of Arlington Cemetery. Since then, Wreaths Across America has grown to become a national tradition honoring veterans by the laying of a wreath on every grave in December.
The first year, the idea of laying the leftover wreaths at Arlington Cemetery quickly gained attention and the involvement of many organizations including the American Legion and the VFW. Over the next 13 years, the Worcester family, their supporters, and several community organizations continued the annual tribute without any real publicity or recognition.
In 2005, the placing of wreaths gained national attention when a picture of Arlington Cemetery, adorned in wreaths and covered in snow, made its way around the internet. The picture sparked interest from all over the country. Thousands of individuals and organizations reached out wanting to get involved and help honor our nation's veterans, resulting in Wreaths Across America's event growing and becoming a nationally known annual tribute during the holidays.
With a mission to Remember, Honor, and Teach, Wreaths Across America now places wreaths on approximately 257,000 graves in over 3400 cemeteries in the U.S. and abroad. Each Veteran's name is read aloud with the placing of the wreath.
Escort to Arlington
The annual tribute starts the weekend prior with the Escort to Arlington, which has become known as the country's longest Veterans' parade. This year's escort will start in Maine and will travel down the East Coast, ending at Arlington National Cemetery on the morning of December 17, 2022.
The parade will make several stops along the way in Maine, New Hampshire, Connecticut, New Jersey, Maryland, and Washington D.C. Parade participants include numerous Gold Star Families and the National President of American Gold Star Mothers, Inc along with many veterans, volunteers, and service organizations like the VFW, American Legion, and Disabled American Veterans.
More than just Wreaths
In addition to the annual holiday wreaths, Wreaths Across America works to support Veterans year-round in several other ways. They host a Thanks a Million campaign that distributes free thank you cards that are given to Veterans. They also have a Remembrance Tree Program that offers Gold Star families a trip to visit the tree farm where the wreaths are grown.
Volunteering
If you would like to volunteer to place wreaths at Arlington Cemetery this year, you must register online and can do so by visiting Arlington Volunteer. It's important to note that registering online is new this year and hasn't been required in the past.
You can also search for one of the over 3400 locations across the country where Wreaths Across America coordinates wreath-laying ceremonies and volunteer locally.
Wreaths Across America is always looking to add locations and is happy to help individuals plan an event in their local area if there isn't one already. There is no cost to participate and become a location coordinator and host. You can sign yourself and your location up by completing an online questionnaire.
Sponsorship
As mentioned earlier, 257,000 wreaths are needed each year to meet the goal of placing one on every eligible Veteran's grave during the holiday season. Wreath sponsorships are available online for just $15.00.
Along with the need for wreath sponsorships, Wreaths Across America is also in need of corporate partnerships and trucking services for the Honor Fleet that delivers these wreaths across the country.