By Amy Miller, AFC®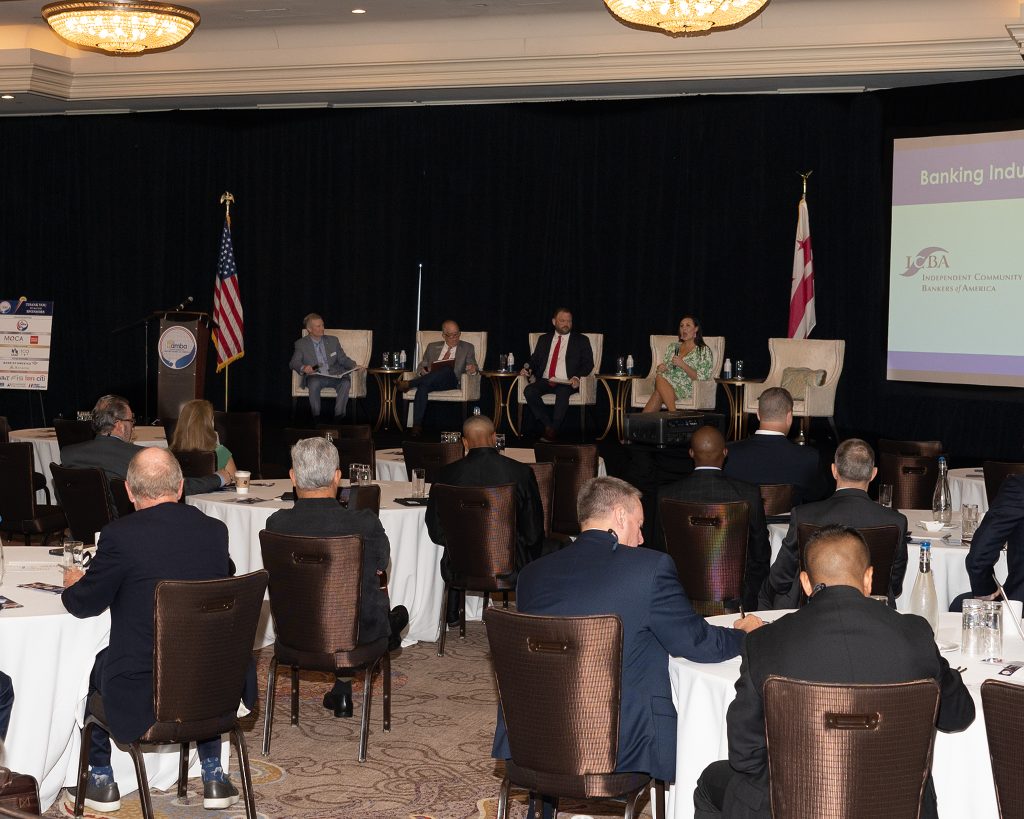 Every year, to further its mission, AMBA hosts a workshop for its members, government officials, banking trade organizations, non-profit military service and veteran service organizations, and other individuals and groups that serves as a catalyst to open conversations and discussions around serving the military and veteran communities and improving their financial wellness.
This year's event, hosted in our Nation's capital last week, was in-person for the first time since the start of the pandemic. I was lucky enough to get an invitation and will now do my best to outline some key takeaways and provide some links to the organizations represented.  
Resiliency
The workshop opened with a warm welcome and a few remarks from both AMBA's President & CEO, Maj Gen (Ret.) Steven Lepper, and AMBA's current Chairman, VADM (Ret.) John Bird, and was then followed by two full days of discussions and conversations focused on service member, veteran, and military family readiness. The event brought a variety of military-focused organizations together to identify and address the current needs of those that serve or have served.  
From financial regulator panels that included individuals from the FDIC, and the Office of the Comptroller, moderated by the American Bankers Association; a Fintech discussion with MOCA Financial, 5Star Bank, and USAA; to a Banking Industry Perspective Panel featuring the Independent Community Bankers of America, the American Bankers Association and First Arkansas Bank & Trust; the workshop started with discussions on how the Covid 19 pandemic and its aftermath impacted banking and consumers – especially our military and veteran communities – and highlighted the issues facing the financial industry and the military. The panels stressed the importance of being aware and getting involved and encouraged contacting Members of Congress (they are truly able to help make a difference).
The conversations took on the real needs of our military and included a Military & Veteran Service Organization Panel that included Col (Ret.) Dan Merry of the Military Officers Association of America, Ms. Besa Pinchotti with the National Military Family Association, and VADM (Ret.) Bill French of the Armed Services YMCA. The group discussed how support from organizations like AMBA and others in the room is vital to their missions and success.
A DOD panel discussion highlighted how brick-and-mortar banking is changing, the effects those changes are having on banks operating on military installations, and the need for those locations to have the same capabilities as banks outside the gates. The vital importance of the overseas banking program was also discussed and bank liaison officers from each branch outlined specific location needs and closures and encouraged everyone in the room to speak with their BLO (Banking Liaison Officer) in the next 60 days.
Mental Health & Financial Wellness
Military Financial Wellness was first addressed by Ms. Rosemary Williams, Specialist Executive with Deloitte Consulting, and a long-time advocate for military families. She explained that financial stress is intrinsically tied to mental and physical health and well-being.  She also reminded the group that mental health and money problems do not have to be permanent and that the organizations in attendance should be relied on as trusted sources for military family support.  
She also outlined her Top 10 things we can all do to improve overall military family health and wellness:
Understand the Modern Military
Look Outside the Gate for organizations, churches, etc.
Don't forget about veterans, their families, caregivers, and survivors
Spread the Word: Financial Readiness IS Military Readiness
Avoid using the term "financial literacy"
Financial Health IS Mental Health – find a study & share to connect
Include the Spouse
Start early where you can
Share your own strengths
rosemary@rosemaryreport.com – reach out!
Furthering the discussion, the group also heard from the Military Family Advisory Network's Dr. Gabby L'Esperance about the results of its recent Military Family Support Programming Survey, and the National Foundation for Credit Counseling's CMSgt (Ret.) Barry Coleman about their recent survey findings. Both outlined key factors currently impacting the health and readiness of our military, including extreme housing burdens, food insecurity, and lack of savings.
We also heard from the CEOs of the Military Services relief societies.  Chief Master Sergeant of the Air Force (Ret.), Kaleth O. Wright, Air Force Aid Society; RADM (Ret.) Cari Thomas, CEO, Coast Guard Mutual Assistance; LTG (Ret.) Raymond Mason, Army Emergency Relief; and Lt Gen Jack W. Klimp (Ret.), Navy-Marine Corp Relief Society talked about the resources they provide to service members facing financial challenges and how they attempt to address both their short and long-term needs.
Protecting our military and veterans was also on the agenda. We heard from the BBB Institute for Marketplace Trust; Mr. Tony Camilli, Office of Servicemember Affairs, Consumer Financial Protection Bureau; and Ms. Carol Kando-Pineda, Federal Trade Commission about the top scams targeting those who serve. The group highlighted government imposter scams, online shopping, romance, and investment scams, many of which start on social media (around 78.4%), and discussed how cryptocurrency scams are growing at rapid rates. They encouraged the organizations in the room to "innovate for good and protect our military".
MilMoneyCon
We heard from Lacey Langford, Founder of the Military Money Show Podcast & MilMoneyCon. She provided an overview of her event and described its mission to bring service members, veterans, and military spouses together to build and advance their careers, continue their education, and grow their earning power as practicing or rising financial professionals. The next MilMoneyCon will be held in Nashville, TN, April 27-29, 2023.
Veteran Financial Wellness & the Veterans Benefits Banking Program (VBBP)
AMBA's EVP, Andia Dinesen, led a panel discussion focused on the current state of veterans banking that included Ms. Rachel DeLeon, Association for Financial Counseling and Planning Education (AFCPE); Ms. Jennifer Pizi, National Foundation for Credit Counseling; and Ms. Shannon Razsadin, Military Family Advisory Network. The panelists outlined how their organizations are working together to focus on the financial needs of our veterans. They described how VBBP 2.0 will now offer veterans one free consultation with a credit or financial counselor that will address immediate money or credit needs and challenges while creating plans to achieve goals and build a foundation for sustainable long-term financial well-being.
Annual Awards & Recognition
In addition to the many panel discussions, the workshop also recognized on-base financial institutions that provided exceptional service to their communities during the previous year.
This year AMBA is proud to honor the winners of the Military Departments' 2021 Distinguished Bank Service Awards:
2021 Army Distinguished Bank Service Award:
Fort Hood National Bank, Fort Hood, Texas
2021 Air Force Distinguished Bank Service Award:
Armed Forces Bank, Travis AFB, California
2021 Navy/Marine Corps Distinguished Bank Service Award:
Armed Forces Bank, Naval Station Great Lakes, Illinois
Additionally, Military Saves presented its America Saves Designation of Excellence Award to a financial institution that went above and beyond to help its customers save successfully during the 2022 Military Saves Week.
America Saves Designation of Excellence Award:
Armed Forces Bank
Congratulations to all bank award recipients!
Why We Serve
AMBA not only wanted to represent the needs of our military during the conference but also wanted to help attendees understand the reasons individuals choose to serve and sacrifice for our country.
Lt Gen (Ret.) Dana Atkins, President & CEO, Military Officers Association of America, delivered a moving speech about his service and shared some reasons individuals choose to serve, including following in family footsteps, escaping a bad home life, pay, education, or seeking community and purpose. He also talked about the many personal and professional sacrifices made by our service members.
He emphasized that success as a leader starts with knowing about people – the people we work with, the people we lead, the people we serve, and those who serve our country. Understanding our service members' challenges is the first step toward bridging civilian and military pay gaps and addressing their and their families' needs.  He reminded us that everyone has a story and encouraged talking to a service member and learning theirs.  
Financial Readiness = Operational Readiness
Finally, Mr. Andrew Cohen, Director, Financial Readiness, Office of the Under Secretary of Defense (Personnel & Readiness) spoke about his vision of DOD being a trusted source that enables military members and their families to feel financially comfortable. He also described his plans to approach financial readiness issues in a holistic, non-judgmental way and to overcome the myths and stigma often associated with military financial insecurity. He called on AMBA's membership to help and stated that even the smallest of things – like sharing facts – can make a tremendous impact. His message was clear: Financial Readiness = Operational Readiness and it is our job to ensure service members have the tools and education in place to serve our country and take care of their families.
Overall, AMBA did a great job of inviting the right people to renew and reinforce our common commitment to enhance military and veteran financial well-being.  I look forward to continuing the conversation at the 2023 AMBA Workshop to be held at the Philadelphia Ritz-Carlton Hotel from 20-23 August 2023.  See you there!