By Amy Miller, AFC®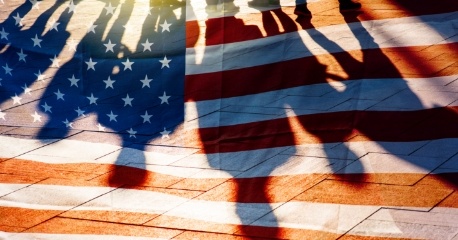 With April coming to an end, we must highlight the last weekly theme for Military Saves Month – Save As a Family.
As a parent, we all want what is best for our children. We want them to do well in school and build a strong foundation for their future. However, many of us neglect to teach them about money. I often hear people say that it should be taught in school, and although I don't completely disagree, I do believe that it is our job as parents to teach our children certain necessary "life skills" and managing money and finances are one of those.
I once saw a meme on social media that said something along the lines of "don't give your children everything you didn't have – teach them everything you wish you knew". It really resonated with me and made me think about what that would be for me – what do I wish someone had taught me as a child.
Although I didn't get those lessons from my parents, lucky for me, I had an old-fashioned southern grandpa that lectured me on many things, money being one of the main topics. He took me to his bank when I was 14 to open a savings account and then later took me back to apply for my first car loan, (he was my co-signer – back then I was able to get a loan at 16 years old – things have changed since then). He had me meet with a loan officer that he "did business with" named Ms. Dot and for about an hour the two of them educated me on many money issues and the importance of good credit, on-time payments, spending, savings, etc. I remember just wanting to sign the papers and get my keys, but I listened and can say that I do remember almost everything they said and have used that knowledge throughout my life to make money decisions and maintain a good credit rating.
I tell you that to highlight that our children will remember the lessons you teach them about money. Good or bad. On the opposite end of my experience, there are many individuals trying to navigate finances that were never taught anything about money and have no idea how to manage it. Or their only examples handle it poorly, which has led them to handle it poorly as adults.
So, with that in mind, I encourage you to take this week to discuss money as a family. Talk about ways to save, budget, and track expenses. If you haven't already, take your children to the bank and open a savings account. Most have very low initial deposit requirements. Talk to them about their financial future and how saving can impact it. If you don't have an account yourself, open one for both of you. Do this together to start a pathway to a healthy financial future for your entire family.
In my opinion, it's one of the best ways to further equip them – again, managing money is a necessary life skill.
The Month of the Military Child
I mentioned that April is also home to another important recognition event – the Month of the Military Child and with this week's theme being about family, I thought there would be no better time to discuss both.
Since 1986, April has been designated as a time to recognize and honor the resiliency, unique challenges, strengths, and sacrifices the children of our services members make.
My own little "MilKid" was recently chosen to speak at a flag ceremony recognizing military children in our community. She found the following from the Military Child Education Coalition and chose to read it during her speech. I thought I would share it – it's a wonderful characterization of a military child.
The official flower of the military child is the Dandelion. Why?
The plant puts down roots almost anywhere, and it's almost impossible to destroy.
It's an unpretentious plant, yet good-looking. It's a survivor in a broad range of climates.
Military children bloom everywhere the winds carry them.
They are hardy and upright.
Their roots are strong, cultivated deeply in the culture of the military………planted swiftly and surely.
They're ready to fly in the breezes that take them to new adventures, new lands, and new friends.
Experts say that military children are well-rounded, culturally aware, tolerant, and extremely resilient.
Military children have learned from an early age that home is where their hearts are, that a good friend can be found in every corner of the world and in every color and that education doesn't only come from school.
They live history.
They learn that to survive means to adapt, that the door that closes one chapter of their life opens to a new and exciting adventure full of new friends and new experiences.
Resilient, Adaptable & Strong
It is estimated that we have around 1.6 million military kids in the US. I think most have more love for their country and make more sacrifices for it than many Americans. They are resilient, adaptable, and strong – let's add financially fit to that list.
You can read more about the Month of the Military Child and ways to celebrate them at the US Department of Defense's website