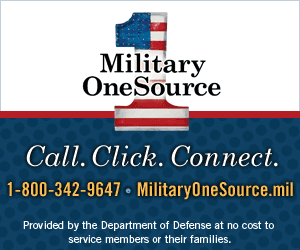 When you think of Military OneSource, you probably think of non-medical counseling services or of a place to find information about a variety of military life topics. But there's more. Military OneSource offers one-on-one support to help you navigate any challenge military life may bring your way. Take a look at how a consultant can help you:
Relocation services can help you create a personalized moving plan for your next PCS.
Certified financial experts can help you balance your budget or prepare your taxes.
You can get qualifying legal documents translated — usually within days — and also have them certified and notarized.
Counselors can help you keep your career on course or pursue your dream profession.
Language interpretation services are available by phone, 24 hours a day, 7 days a week, in more than 150 languages.
Wellness coaches can work with you to set health goals, create a plan to meet them, and root for you every step of the way.
Adoption consultants can show you the financial and legal implications of adoption along with its associated military benefits, allowances, and reimbursements.
Certified career counselors can walk you as a spouse through the vast resources available to put you on the path to business ownership.
Education consultants can answer your questions about financial aid, scholarships, tutoring, and college options.
Consultants can help you find housing or care to meet the needs of your wounded, disabled, elderly, or special needs family member, and guide you through your available benefits.
Whenever or however you need support or guidance, Military OneSource is there. Call 800-342-9647, or start a live chat today at www.militaryonesource.mil/confidential-help.